Path to Wellness Book Signing &

Reincarnation, Karma, & Past Lives Workshop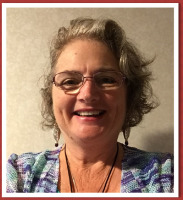 Virginia Waldron, CH, CI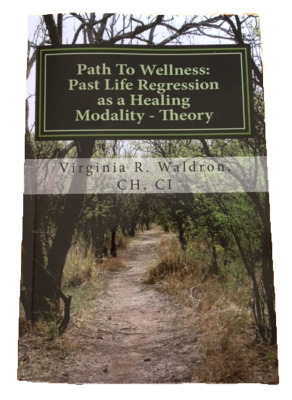 Path To Wellness is for anyone who is drawn to seek a deeper understanding of such concepts as reincarnation, karma and the interim states. If you have questions about beliefs in reincarnation in history or around the globe, if it is found in the Bible, or where it stands in our modern times, look no further. If you want to know more about what our past lives can teach us, how past life regression heals, and even more fascinating, where do we go when we leave the earth plane, Path To Healing just might be a good place for you to begin.
​

Book Available at Good Vibes Wellness

Friday, April 7  

6:00pm-10:00pm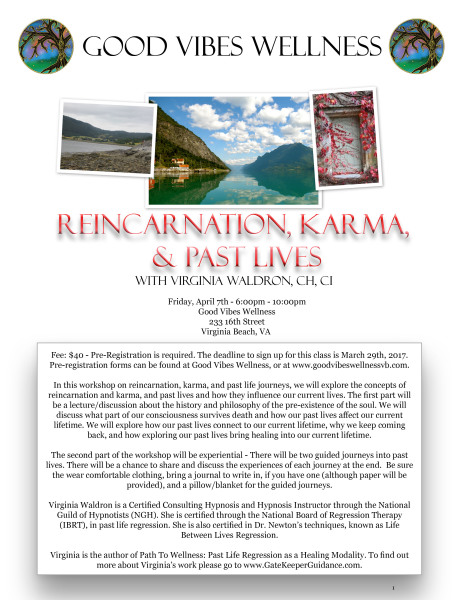 In this workshop on reincarnation, karma, and past life journeys, we will explore the concepts of reincarnation and karma, and past lives and how they influence our current lives. The first part will be a lecture/discussion about the history and philosophy of the pre-existence of the soul. We will discuss what part of our consciousness survives death and how our past lives affect our current lifetime. We will explore how our past lives connect to our current lifetime, why we keep coming back, and how exploring our past lives bring healing into our current lifetime.


The second part of the workshop will be experiential - There will be two guided journeys into past lives. There will be a chance to share and discuss the experiences of each journey at the end.  Be sure the wear comfortable clothing, bring a journal to write in, if you have one (although paper will be provided), and a pillow/blanket for the guided journeys.


Virginia Waldron is a Certified Consulting Hypnosis and Hypnosis Instructor through the National Guild of Hypnotists (NGH). She is certified through the National Board of Regression Therapy (IBRT), in past life regression. She is also certified in Dr. Newton's techniques, known as Life Between Lives Regression.
Virginia is the author of Path To Wellness: Past Life Regression as a Healing Modality. To find out more about Virginia's work please go to www.GateKeeperGuidance.com.

​$40 - Pre Registration required

Deadline to sign up is March 29, 2017

Pre-pay:

Past Life Regression session also available

April 8, 2017

Virginia Waldron, author of Path To Healing: Past Life Regression as a Healing Modality, will be in Virginia Beach, and is offering individual past life regression sessions at the Good Vibes Wellness Center in Virginia Beach. Virginia is certified in past life regression through the International Board for Regression Therapy.  Each session lasts about 2 hours and is recorded. A CD is made of the session so each client will have a recording of their past life journey.


The fee for a past life regression session is $300. Sessions must be paid for in advance of the scheduled session. The number of sessions is limited to four, so sign up for your session now.

Pay here for a session