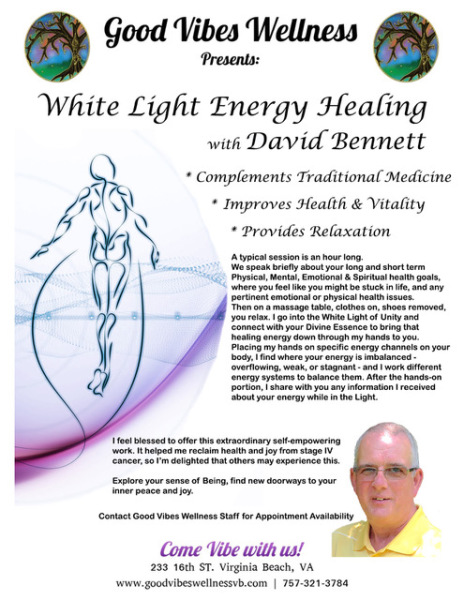 White Light Energy Healing

​
David works as an energetic healer using his White Light Healing Technique given to him from Spirit during stage IV lung and bone cancer that caused his spine to collapse and within six months he was cancer free.
When our body's energy is in balance, we are healthy and full of vitality.  Everyday stress, injury or surgery, traumatic events, self-limiting thoughts and old belief systems are a few things that disrupt our energy's natural flow. Stagnant or blocked energy leads to dis-ease physically, mentally, emotionally and spiritually. Energy medicine helps the body, mind, and spirit reestablish healthy balance. White Light Healing Technique assists your body to recognize the universal life force energy of your Divine Essence as it flows into you, bringing about balance. 
What is a session like?

A typical session is an hour long. We speak briefly about your long and short term integrated (Physical, Mental, Emotional and Spiritual) health goals, where you feel like you might be stuck in life, any pertinent emotional or physical health issues, and how you are feeling in the moment. Then on a massage table, clothes on, shoes removed, you relax.
I go into the White Light of Unity and connect with your Divine Essence and bring that healing energy down through my hands. I place my hands on specific energy channels on your body, including feet, legs, abdomen, shoulders, and face. If touch makes you uncomfortable, I can work off the body. I find where your energy is imbalanced - overflowing, weak, or stagnant - and I work different energy systems to balance them. After the hands-on portion, I share with you any information I received about your energy while in the Light and what it might represent to you. Most people feel an energy shift that keeps increasing even after the session is over.

In-Person Healing Sessions have an extra Benefit from the BioMat.

Based on Nobel prize-winning scientific research pioneered by NASA and developed using pure, natural materials, the amethyst BioMat delivers soothing, deep-penetrating heat while stimulating the regeneration of damaged cells in your body. It's a safe and natural way to achieve optimal health now and maintain a stronger, more resilient body in the future. 
​Relaxation Session : We all need a break from day-to-day stress. This session is your time to completely relax while I balance your energy to remove the effects of stress, tension, and anxiety. Good for headaches, sleeplessness, tense muscles, impaired immune system, or lack of focus.
​Improved Health\Healing : For post surgical, emotional, chronic and acute illness. Energy medicine helps speed recovery from illness, injury, and surgery by enhancing specific energy that increases the body's ability to
regenerate and heal itself. Good for people who have chronic pain, such as arthritis, knee pain, back pain, and fibromyalgia. 
​Support of cancer patients : I offer specific healings for pre and post surgery, operative and inoperative cancer, tumors, chemo and radiation treatments. Cancer patients also benefit from energetic support for the immune system and for the liver to help reduce the effects of medications, chemo, and anesthesia.
Session by appointment only. 

Please call Good Vibes Wellness to set your appointment today!

About David Bennett

David Bennett enjoys the life of a public speaker, author, energetic healer, and transformational life coach. He's had many appearances on radio and television, including The Story of God with Morgan Freeman, Dr. Oz, Angels Among Us, NBC national news and PBS.
David is the past leader of Upstate New York IANDS, where he volunteered for eleven years.  He serves on the board for NDEretreat.com, and NDERandR.com  helping coordinate the Near-Death Experiencer Spiritual Retreats in St. Louis and Virginia Beach.  David also serves as an advisor to the Board of Directors of the American Center for the Integration of Spiritually Transformative Experiences (ACISTE.org) in San Diego.  At the moment he has retired to Virginia Beach where he daily devotes his time to writing and spreading his message by writing a column for Huffington Post, Medium, and Om Times. He also works as a certified integration/transformational life coach. You can find more about David on his website:
His book about his Near-Death Experiences is called Voyage of Purpose: Spiritual Wisdom from Near-Death back to Life.  Recently David has been teaching contemplation meditation from his new book A Voice as Old as Time: Contemplations For Spiritual Transformation. His Podcasts are Contemplative Living on PodBean -
DharmaTalks.com
 http://contemplativeliving.podbean.com/